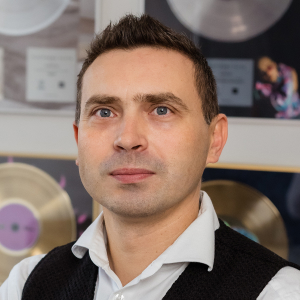 Jan Ejsmont
President of the Management Board
Jan Ejsmont is a graduate of the Warsaw School of Economics, majoring in Finance and Banking.
Most of his professional career is associated with e-muzka. Initially, from 2007 he worked as a finance and billing specialist, then from January 2009 he acted as the financial director.
In June 2010, he was appointed the Vice President of the Management Board and in June 2020, the President of the Management Board of e-muzyka.
Effectively combines responsibilities related to financial management with the development of the e-muzyka business – diversification of the company's revenue sources and expansion of the distribution catalog.
From July 2018, he is also a Member of the Management Board for financial matters at Going Sp. z o.o. – a company from the EMPIK Group.